 Dedicated to strengthening the role of public health
by improving education and training
of public health professionals
for both practice and research
LOGIN | ASPHER COMMUNITY
ASPHER is the key independent European organisation dedicated to strengthening the role of public health by improving education and training of public health professionals for both practice and research.
Member's blog - Other
President Elect, John Middleton's speech to the ASPHER 2018 Dean's and Director's Retreat, London School of Hygiene and Tropical Medicine, June 20th, 2018
Publication date: 06.08.2018
Author:
ASPHER
On June 20th, 2018, John Middleton (President of the UK Faculty of Public Health) addressed the ASPHER Dean's and Director's Retreat in the John Snow Lecture Hall at the London School of Hygiene and Tropical Medicine. His candidacy for ASPHER's President Elect (2019-2021) was met with unanimous approval. The content of his speech is presented here: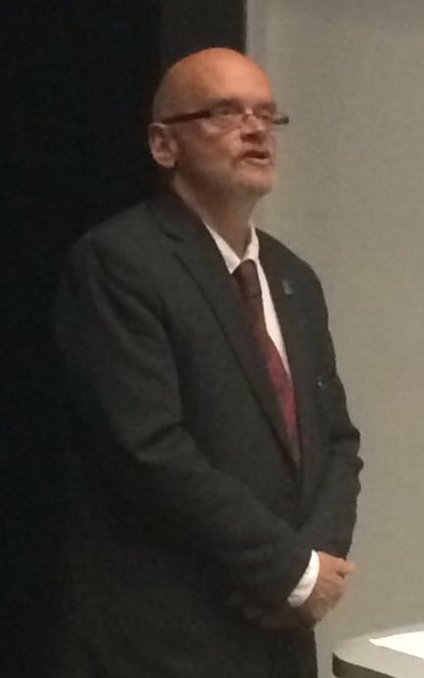 I am very pleased to have been proposed as the President of the Association of Schools of Public Health in the European Region (ASPHER) from 2019 to 2021. For those of you I haven't met, I am currently the President of the United Kingdom Faculty of Public Health of the Royal Colleges of Physicians of London, Edinburgh and Glasgow. We are responsible for standard setting for specialist public health in the UK. We have as our charitable objectives, advocacy for the public's health, standards setting, knowledge dissemination and public health workforce development.
During my time as President of the UK Faculty we have been concerned to develop and refine work on standards, curriculum, competencies and our Codes of conduct. These are, I know, also preoccupations for the work of ASPHER. I have been on the ASPHER Executive Board for the last two years.
Earlier today, Peter Piot spoke of the 'health of the public' and the 'public health system'. It is a helpful distinction I think, and one which I use. The health of the public is everybody's business. But without the expertise of the much smaller group of people committed to working in public health services, nothing will be done, and preventable death, disease and disability will go unprevented.
Listening to the new admissions into ASPHER membership this morning, I was struck by the Indian connections, and reminded that the great Moghul Empire of Hindustan was founded on clean water and sanitation. There was public health, before there was civilisation. Closer to home, where would the Roman Empire have been without the plumbing? In western industrialised countries, we had to learn the hard way, allowing our cities to grow into places of squalor and degradation, without basic public health protection. And I am reminded also of that great Roman public health expert, Cicero, who said 'Salus populi suprema lex esto': 'The health of the people is the highest law'. So, I am pleased that ASPHER is embracing a public health law agenda, which will feature in this meeting and will be a continuing area for development for the future of public health in Europe.
Public health problems do not respect national boundaries–this is obvious to us all when we look at environmental degradation, infectious disease outbreaks and air pollution. What we breathe in today in London, Paris breathed in yesterday. What is less obvious is that the global corporations do not respect national boundaries. The Global Burden of disease studies tell us 70% of the world's deaths are caused by non-communicable disease. Some experts suggest 40% of those deaths are related to poor diet. Ten multi-national companies control virtually everything we eat, profiting from overconsumption of highly processed food. Tobacco companies profess to be working towards a smoke-free world, whilst ruthlessly expanding their sales in Africa and India and other developing countries. So, it is clear that part of the armoury of public health needs to be education and training about the harmful effects of this corporate misuse of power, and how to combat these anti-health forces. Part of our response must be in regulation, taxation and control, and application of existing laws to protect the health of the people we serve.
And there is the wider issue of interconnectedness. Environmental problems, human conflicts and economic inequalities are interrelated in ways which demand that we are more interconnected. A most florid example of this is the Syrian war. Advancing deserts and crop failure forced many Middle Eastern farmers off their land and towards the cities, further compounding food shortages; food riots ensued; and the Arab Spring; conflicts erupted, of which the Syria War has become the most protracted and barbarous. Mass migration away from conflict zones has created political crises in Europe, the rise of right wing populism and governments and the break down or challenge to stable political relationships. In a paper in the European Journal of Public Health in 2016 called 'Isis, crop failure and no antibiotics' I described what I thought some of the challenges for the public health system might be by 2040, and therefore, what we needed to put into public health training today. Much of this is the planetary health agenda. I wonder if anyone in this room has had one lecture on loss of pollinators, or soil science, or loss of biodiversity? We cannot all be experts in climatology, biology, ecology, political science or international law, but we need to know enough, and we need to relate to the people that do know about these vital issues for the public's health. There has never been a more important time to be in public health, and never a more challenging time.
Change is inevitable, but progress is not. What we do in this room, and in our countries, will determine whether our people and our planet progress for the better, or change for the worst. We need to strengthen our partnerships and improve our advocacy for the public's health. I will be pleased and honoured to serve you, with the goal of improving the health of the people we all serve. Thank you.
John Middleton,
John Snow Lecture Theatre,
London School of Hygiene and Tropical Medicine, June 20th 2018
ADDRESS
Aspher Secretariat
UM Brussels Campus
Av de l'Armée / Legerlaan 10
BE-1040 Brussels