 Dedicated to strengthening the role of public health
by improving education and training
of public health professionals
for both practice and research
LOGIN | ASPHER COMMUNITY
ASPHER is the key independent European organisation dedicated to strengthening the role of public health by improving education and training of public health professionals for both practice and research.
Home
» ASPHER Programme for Public Health Competencies » ASPHER Programme for Public Health Competencies
ASPHER Programme for Public Health Competencies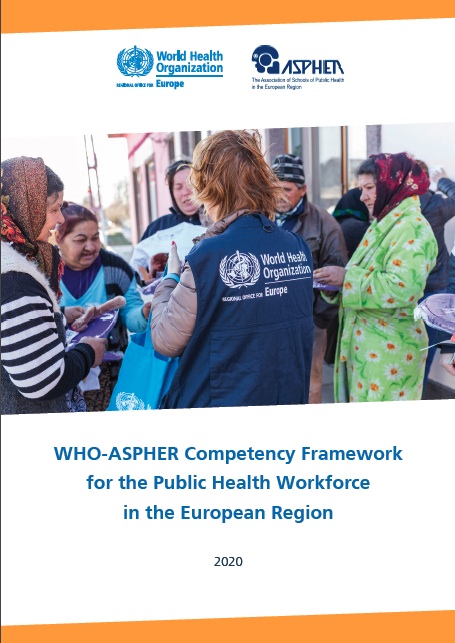 Announcing the WHO-ASPHER Competency Framework for the Public Health Workforce
Good training is vital in our efforts to educate new generations of public health professionals who will improve and protect the health of the people we serve, and the health of our environment and planet. So, it is essential for us to define the skills and competencies needed for this life saving work. ASPHER is thus immensely proud to announce the publication of the WHO-ASPHER Competency Framework for Public Health Workforce in the European Region, which is a result of strong collaboration between ASPHER and the WHO Regional Office for Europe Coalition of Partners to Strengthen Public Health Services in the European Region.
The Framework was developed to meet the need of member states to build public health workforce capacity. The Competency Framework can be usefully applied in numerous situations such as: developing measures to strengthen education and performance, assessing existing capacity and capability and identifying training requirements, capacity-building, analysis and monitoring, ensuring appropriate numbers, mix and distribution of staff and skills for public health teams in various contexts and arguing for sustainable investment to support workforce development, planning public health workforce, including recruitment, retention, productivity and skill mix of public health professionals and teams, developing accreditation and credentialing systems, developing job descriptions, interview questions, performance evaluation and quality assurance systems; and in fostering collaboration across disciplinary and organizational boundaries.
The Framework is a crucial document that will inform and guide the teaching, training and research, of all the schools of public health in Europe not just in curriculum, but within the context of the profession as a whole, in the philosophy and values of public health and in codes of conduct. ASPHER is particularly grateful to our Immediate Past President, Professor Kasia Czabanowska for her tireless work on professionalisation and the Competency Framework.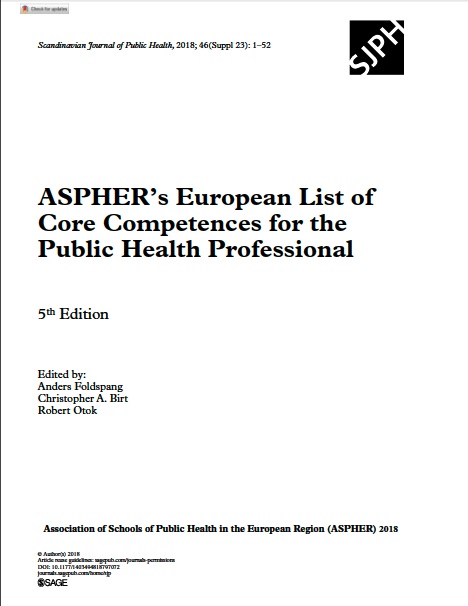 The Framework complements advancements of ASPHER's European Core Competences List for the Public Health Professional, historically led by ASPHER Past President, Professor Anders Foldspang. The List is a useful practical source book providing detailed content for public health teaching and curriculum for our member schools of public health. The two pieces of work are synergistic; both vital for our work in leading high-quality public health training and assuring the values, ethics and development of our profession.
The Framework and the List represent core business of central importance to ASPHER's mission. Both aspects of ASPHER's competencies work will be carried forward over the ASPHER 2025 Strategy period by Executive Board Member, Professor Mary Codd, for which she will truly be standing on the shoulders of giants.
The WHO-ASPHER Competency Framework for Public Health Workforce is a living document and a major resource for schools in Europe and we believe, a reference for public health training globally. We encourage you to use the Framework, share with your professional networks and inform us about your experiences using this tool.
ADDRESS
Aspher Secretariat
UM Brussels Campus
Av de l'Armée / Legerlaan 10
BE-1040 Brussels