 Dedicated to strengthening the role of public health
by improving education and training
of public health professionals
for both practice and research
LOGIN | ASPHER COMMUNITY
ASPHER is the key independent European organisation dedicated to strengthening the role of public health by improving education and training of public health professionals for both practice and research.
Member's blog - Other
The von der Leyen Commission: Mission Letter to Commissioner-designate for Health, Stella Kyriakides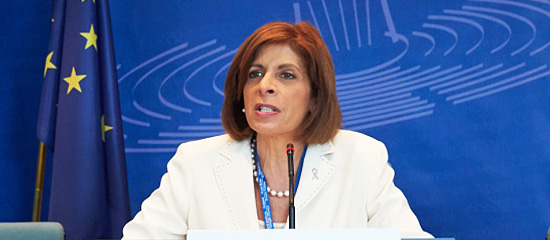 Stella Kyriakides (photo source: Council of Europe)
On Tuesday, 10 September 2019, European Commission President-elect Ursula von der Leyen presented her selected team to lead her programme 'for a Union that strives for more' and released her Mission Letter to Commissioner-designate for Health, Stella Kyriakides of Cyprus. Dr. Kyriakides is a medical psychologist with many years of experience in the field of social affairs, health and cancer prevention.
Dr. von der Leyen recognizes that Europeans expect access to healthcare, safe food and protection from disease, but that this is challenged by an ageing society and increasingly expensive and complex treatments. She focuses on the need to support professionals working in health, which is a central mission of ASPHER in the form of professionalisation of the public health workforce and capacity building in public health.
In entrusting Dr Kyriakides with the role of Commissioner for Health, von der Leyen has tasked her with protecting and promoting public health. Her overarching instruction is for Kyriakides to 'find ways to improve information, expertise and the exchange of best practices for the benefit of society as a whole.' This too falls within the core objectives of ASPHER, which includes promotion of structured processes of sharing evidence-based public health models of innovation and good practice; and building coalitions with other programmes and public health organisations whose mission is to improve public health.
More specifically to protect the health of the population, Dr Kyriakides has been asked to:
ensure Europe's supply of affordable medecines; regulate the safety of medical devices;
make the most of e-health with the creation of a European Health Data Space to support research and prevention strategies; implement the European One Health Action Plan against Antimicrobial Resistance and work for a global agreement on the use of antimicrobials;
prioritise communication of the benefits of vaccination and combating misconceptions and vaccine skepticism; and
put forward Europe's Beating Cancer Plan to improve cancer prevention and care with a close link with the research mission on cancer in the future Horizon Europe programme.
In turning to the health of the planet, Dr Kyriakides has been asked to lead in Food safety and animal and plant health which will be an essential part ofdelivering on the European Green Deal. Dr von der Leyen has specifically prioritized:
a 'Farm to Fork' strategy for sustainable food;
protection of plant health, reducing dependency on pesticides and stimulating the take-up of low-risk and non-chemical alternatives;
improvement of consumer information especially on the health and sustainability of food products;
animal health and welfare ensuring Europe is equipped to prevent and fight against animal diseases;
implementation and enforcement of the extensive legislation in the areas of food safety and animal and plant health; and
development of a strategy with concrete measures against food fraud.
ASPHER further recognizes the need as called for by the WHO for Health in all Policies and to put health at the heart of all policy making. This requires looking beyond the obvious connections of public health to Kyriakides's mission as Commissioner for Health, and seeking to work with the entire Commission team. This includes, but is certainly not limited to those charged with climate action policy, digital fitness, innovation and youth, neighborhood and enlargement, economy and jobs, environment and oceans, equality, agriculture, transport, crisis management and home affairs. Each Commissioner will ensure the delivery of the United Nations Sustainable Development Goals within their policy area.
A healthy population and a healthy planet are dependent on the entirety of von de Leyen's agendas and public health should ensure that we make our voices heard to all the incoming commissioners.
President-elect Ursula von der Leyen said: "This will be a Commission that walks the talk. We have a structure that focuses on tasks not hierarchies. We need to be able to deliver on the issues that matter the most rapidly and with determination." ASPHER would like to extend our organizational support to Drs von der Leyen and Kyriakides in implementing this ambitious programme. They can rely upon the Association and our Member Schools and Programmes, who bring expertise and capacity in public health and best practices across Europe and beyond, including in aspects von der Leyen has called for such as transitioning to a healthy planet and a new digital world. As a focal point for education and training in Public Health, ASPHER and our members can act as a conduit to rapidly provide the workforce to deliver on the agenda charged to the future Commissioner of Health and others. In referencing her Green Deal, Dr von de Leyen stated, 'I want Europe to be the front-runner. I want Europe to be the exporter of knowledge, technologies and best practice.' ASPHER is well-placed to help deliver on this within the scope of Public Health across Europe, able to 'strengthen the links between people and the institutions that serve them, to narrow the gap between expectation and reality and to communicate about what Europe is doing.' We will seek to help our members access programmes and key EU personnel to enable them to be involved in this vital agenda, and benefit from any funding programmes which may follow.
John Middleton
ASPHER President
ADDRESS
Aspher Secretariat
UM Brussels Campus
Av de l'Armée / Legerlaan 10
BE-1040 Brussels