 Dedicated to strengthening the role of public health
by improving education and training
of public health professionals
for both practice and research
LOGIN | ASPHER COMMUNITY
ASPHER is the key independent European organisation dedicated to strengthening the role of public health by improving education and training of public health professionals for both practice and research.
How to find MIG-H files in Agora
Registration on the Agora Network and accessing MIG-H Training materials
Agora Network Registration:
To access the Agora Network you first need to Register with EU Health Policy Platform:
https://webgate.ec.europa.eu/hpf/
Attention! You must use an institutional email address when you register (gmail, yahoo, hotmail, etc… will not be granted access to Agora).
Your EU Health Policy Platform login will be generated automatically.
However, access to the Agora Network is not automatic and you must await approval.
Once approved you can reach Agora here:
https://webgate.ec.europa.eu/hpf/network/home/
Finding MIG-H Training Materials:
Once you have received approval to access the Agora Network, follow the link to Agora:
https://webgate.ec.europa.eu/hpf/network/home/
Sign in with your e-mail address and password.
On the menu bar near the top of the page, click on "Library".
A Folders List will appear.
In the Folders list double-click: "Tools for training of health professionals working with migrants" (Attention! You must double-click, single-click will not bring up the subfolders):
This will open subfolders below the main folder.
Now double-click: "MIG-H training"
This will bring up folder choices in several different languages. Double-click your prefered language
Next, double click either "communicable diseases" or "mental health", etc... continuing until you reach the specific training materials you would like to access
When you reach a folder containing materials, the files available for download will display on the right hand side of the screen.
The screenshot below shows you what the page looks like: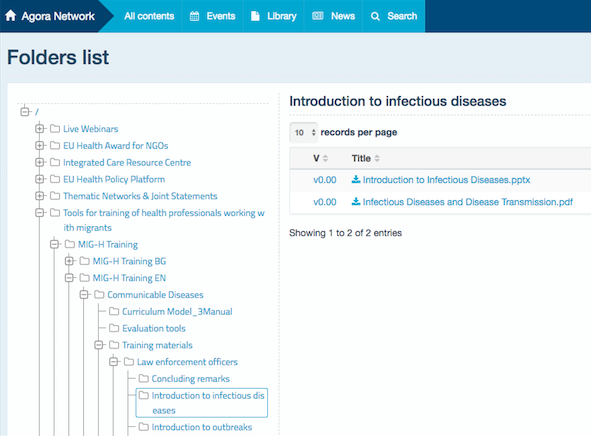 ADDRESS
Aspher Secretariat
UM Brussels Campus
Av de l'Armée / Legerlaan 10
BE-1040 Brussels