 Improving and protecting the public health
by strengthening education and training
of public health professionals
for both practice and research



LOGIN | ASPHER COMMUNITY
ASPHER is the key independent European organisation dedicated to strengthening the role of public health by improving education and training of public health professionals for both practice and research.
Secretariat updates
August 2020 ASPHER Newsletter
6 Aug 2020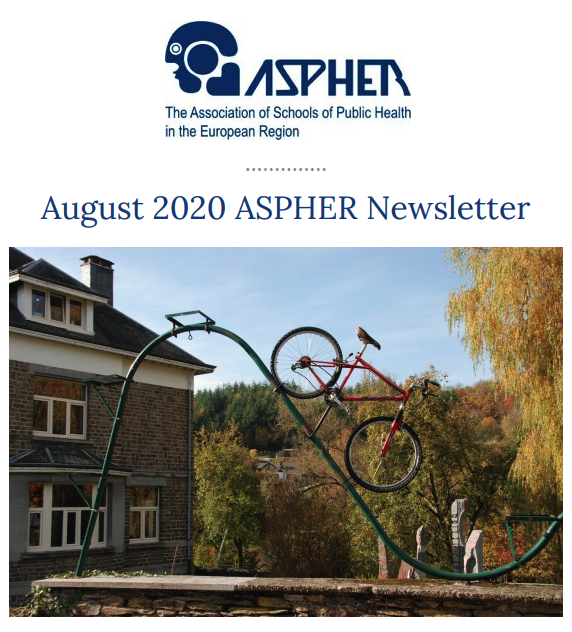 ASPHER Secretariat has been busier than usual this summer with the ongoing COVID-19 crisis. We hope all our Members are keeping safe while also finding some time to enjoy summer holidays. It is hard for all of us in public health to relax as we prepare for what is likely to be a tough winter.
We have much to report in the Newsletter from the ASPHER COVID-19 Task Force as well as a feature on efforts to fight COVID-19 from ASPHER Members in Spain. ASPHER is working to gain a better understanding of how our Member Schools are handling the crisis with two new surveys. The first a rapid reporting survey on School's planning for reopening in the autumn. A report of initial results is already available in this edition. The second survey will look into the different initiatives taken by SPHs to participate in the combat against COVID-19. It will be piloted in August and will go out to all ASPHER Members this fall.
Don't miss the monthly TIPH highlight on Leaders for Public Health in Europe in Maastricht and the Euro-region Limburg. The campaign was run by students in the MSc in Governance and Leadership in European Public Health programme at Maastricht University under the direction of ASPHER past-President Kasia Czabanowska and with support from CAPHRI, Care and Public Health Research Institute and the Institute of Education, FHML. They had some great initiatives and we are looking forward to their final video production coming soon!
Planning is underway for the ASPHER General Assembly on Thursday 10 September. You can expect to have all the relevant information for the Assembly in the September Newsletter including updates on ASPHER 2025 Strategy, President and Executive Board elections, Stampar Medal and Deans' & Directors' Good Practice Award Candidates and much more!
Be well and stay safe,
Robert Otok, Lore Leighton, Naomi Nathan - ASPHER Secretariat
Download the August Newsletter here!
»
Back to Secretariat updates
ADDRESS
Aspher Secretariat
UM Brussels Campus
Av de l'Armée / Legerlaan 10
BE-1040 Brussels