 Dedicated to strengthening the role of public health
by improving education and training
of public health professionals
for both practice and research
LOGIN | ASPHER COMMUNITY
ASPHER is the key independent European organisation dedicated to strengthening the role of public health by improving education and training of public health professionals for both practice and research.
Secretariat updates
March 2021 ASPHER Newsletter
2 Apr 2021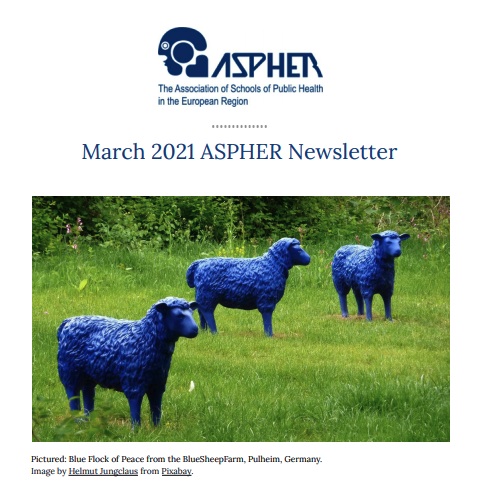 ASPHER Secretariat is happy to bring you the Association's news from the month of March just in time to enjoy over your spring holidays. ASPHER and our Members have been busy and we are impressed with how schools have coped with ongoing COVID challenges. We are delighted to have so many of you actively contributing to the Association's Task Force. You will find recent contributions here in the newsletter. If you haven't joined us yet, we encourage you to send a representative from your institution.
Mark your calendars! ASPHER is planning for the 2021 General Assembly the afternoon of Friday 4 June as well as the Deans' & Directors' Retreat on Monday-Tuesday 27-28 September. Given the ongoing pandemic situation and travel restrictions, both will be held virtually. We will follow up with the GA agenda in May and present the Deans' & Directors' programme at the GA. If you have ideas for the Retreat, please share them with us! We are also calling on you for nominations for the 2021 Andrija Stampar Medalist and Deans' & Directors' Good Practice Award.
We are very pleased to announce that new This Is Public Health Campaigns are kicking off in Kazakhstan, Lithuania, Poland and Portugal under the 2021 global campaign. We will bring you news on those as they get underway and we look forward to more campaigns joining under the TIPH Global banner.
Association-led Projects are also well underway with the Kick Off and work on preparatory work packages for the Erasmus+ capacity building award: Sharing European Educational Experience in Public Health for Israel (SEEEPHI). Meanwhile the ECDC project Updating Core Competencies in Applied Infectious Disease Epidemiology (UCCAIDE) is entering a crucial period after the recent Technical Advisory Group - ECDC meeting to finalize the competencies list in consultation with 300+ experts. If you are able to help or have contacts that could contribute, please let us know. We hope to be bringing you more news next month about another timely project on vaccinology and vaccine hesitancy.
ASPHER will be involved with other major European Public Health events this year including EUPHA's European Public Health Week from 17-21 May and the European Public Health Conference from 10-12 November. We will tell you more about what we are planning for EUPHW in the next newsletter – make sure to send us any events your school will take part in so we can showcase your initiatives. Take note that the EPH Conference abstract deadline is 1 May. ASPHER is discussing the plenary programme with partners and we have more to tell you about that soon.
We look forward to dedicating a portion of our April newsletter to the work of ASPHER's Early Career Young Professionals as well as the ASSETS Summer School plans. Until then please enjoy all the news and opportunities from our Members and Partners!
Best wishes and happy spring from the ASPHER Secretariat,
Robert Otok and Lore Leighton
Download the March 2021 ASPHER Newsletter here.
Please don't forget to share your news, publications, comments & suggestions with lore.leighton@aspher.org to be included in the next regular issue of the newsletter and on the ASPHER website activity log.
»
Back to Secretariat updates
ADDRESS
Aspher Secretariat
UM Brussels Campus
Av de l'Armée / Legerlaan 10
BE-1040 Brussels