 Dedicated to strengthening the role of public health
by improving education and training
of public health professionals
for both practice and research
LOGIN | ASPHER COMMUNITY
ASPHER is the key independent European organisation dedicated to strengthening the role of public health by improving education and training of public health professionals for both practice and research.
Secretariat updates
Fireplace Talk on Public Health beyond the Pandemic
11 Mar 2022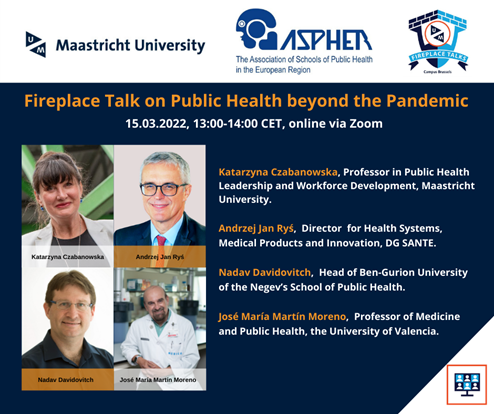 ASPHER and Maastricht University Campus Brussels have the great pleasure of inviting you and your staff to attend our event Fireplace Talk on Public Health beyond the Pandemic.
The event will feature Prof. Dr. Katarzyna Czabanowska, Professor in Public Health Leadership and Workforce Development, Maastricht University, Dr. Andrzej Jan RyĹ›, Director for Health Systems, Medical Products and Innovation, DG SANTE, Prof. Dr. José María Martín Moreno, Professor of Medicine and Public Health, the University of Valencia and Prof. Dr. Nadav Davidovitch, Head of Ben-Gurion University of the Negev's School of Public Health. The discussion will focus on the functions of public health, challenges it faced during the pandemic and what is the emerging landscape of public health after the pandemic.
This Fireplace Talk will take place on Tuesday, 15 March from 13:00 to 14:00 CET. The event will be held online on Zoom.
To find out more about the speakers and to register, please click here. A link to connect to the Zoom call will be sent prior to the event.
»
Back to Secretariat updates
ADDRESS
Aspher Secretariat
UM Brussels Campus
Av de l'Armée / Legerlaan 10
BE-1040 Brussels