 Dedicated to strengthening the role of public health
by improving education and training
of public health professionals
for both practice and research
LOGIN | ASPHER COMMUNITY
ASPHER is the key independent European organisation dedicated to strengthening the role of public health by improving education and training of public health professionals for both practice and research.
ASPHER 2020 Deans' & Directors' Virtual Retreat

Join us online 13:00-16:00 CEST, Tuesday 2 June 2020

Regretfully, due to the COVID-19 outbreak emergency, the ASPHER Deans' & Directors' Retreat in Sofia, Bulgaria has been postponed until 2021.

A virtual Retreat Day is organized for Tuesday 2 June 2020.

The Retreat Schedule and information on how to live-stream the event are now available on the Deans' & Directors' Retreat webpage.

www.aspher.org

FOR SCHOOLS OF PUBLIC HEALTH: This site will facilitate your becoming part of a vibrant, dynamic community of schools of public health. Share best practices and learn from one another.

FOR PROSPECTIVE AND CURRENT STUDENTS: Here you can learn about and compare different offers from schools of public health. Assess and map out your prospects for career development.

FOR ALUMNI AND ALL PUBLIC HEALTH PROFESSIONALS: Here you can obtain career guidance and learn about continuing professional development opportunities in the public health arena.

FOR PUBLIC HEALTH SYSTEM PLANNERS: Find resources on the public health workforce development. Review and compare school profiles, public health education and training schemes in Europe.
ACTIVITY LOG
SECRETARIAT UPDATES

BLOGS

EVENTS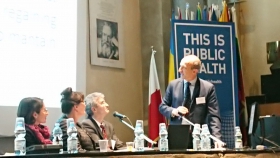 ADDRESS
Aspher Secretariat
UM Brussels Campus
Av de l'Armée / Legerlaan 10
BE-1040 Brussels