 Improving and protecting the public health
by strengthening education and training
of public health professionals
for both practice and research



LOGIN | ASPHER COMMUNITY
ASPHER is the key independent European organisation dedicated to strengthening the role of public health by improving education and training of public health professionals for both practice and research.
Home
» RECOVERY FROM THE COVID-19 PANDEMIC: RELAXATION FROM LOCKDOWN
RECOVERY FROM THE COVID-19 PANDEMIC: RELAXATION FROM LOCKDOWN

Authors: Ranjeet Dhonkal (contact: Ranjeet.Dhonkal@haw-hamburg.de), John Middleton (United Kingdom), Ralf Reintjes (Germany), Laurent Chambaud (France), Alberto Fernandez (Spain), Jose M Martin-Moreno (Spain), Natia Skhvitaridze (Georgia)
Relaxation from lockdown
The coronavirus disease (COVID-19) pandemic has impacted massively on all aspects of economic, social and educational life. It has affected children and families and adversely impacted on older people, people with disability and vulnerability to infection. Health systems have been stretched to their limits and the personal safety of health and care workers and other key workers is being threatened. Businesses and borders have been closed down.
The immediate priority of the countries is to fight and prevent the spread of COVID-19 pandemic and limit the weakening of socio-economic consequences at most. Many countries are now tentatively addressing the first steps to lighten the effect of country-wide lockdown, to seek to recover, resetting their economies, safely, without awakening a second wave of the pandemic.
There are a number of key documents relating to the path from lockdown. The most significant from the European viewpoint are the WHO Europe key considerations and the EU roadmap.
ASPHER supports the WHO Europe key considerations for the gradual easing of the lockdown restrictions in response to the spread of COVID-19 across the European Region.
The transition out of lockdown is complex and involves judgements which must balance the potential for a second catastrophic wave of infection, versus continued damage to health through lockdown measures, and through damage to the economic and social fabric of societies.
WHO Europe describes 4 key components for the consideration of easing large-scale restrictive public health measures:
public health and epidemiological measures;
capacity for dual-track health system management;
population and behavioural insights; and
social and economic implications.
WHO Europe guidance includes 6 criteria for moving to ease lockdown restrictions. Countries must ensure:
Evidence shows that COVID-19 transmission is controlled.
Sufficient public health and health system capacities are in place to identify, isolate, test and treat all cases, and to trace and quarantine contacts.
Outbreak risks are minimized in high-vulnerability settings, such as long-term care facilities (i.e. nursing homes, rehabilitative and mental health centres) and congregate settings.
Preventive measures are established in workplaces, with physical distancing, handwashing facilities and respiratory etiquette in place, and potentially thermal monitoring.
Manage the risk of exporting and importing cases from communities with high-risks of transmission.
Communities have a voice, are informed, engaged and participatory in the transition.
The Joint European Union Road Map towards lifting COVID-19 containment measures sets out three sets of criteria relevant to assess whether the time has come to begin to relax the confinement.
Epidemiological criteria showing that the spread of the disease has significantly decreased and stabilised for a sustained period of time. This can, for example, be indicated by a sustained reduction in the number of new infections, hospitalisations and patients in intensive care.
Sufficient health system capacity, in terms of, for instance, occupancy rate for Intensive Care Units, adequate number of hospital beds, access to pharmaceutical products required in intensive care units, the reconstitution of stocks of equipment, access to care in particular for vulnerable groups, the availability of primary care structures as well as sufficient staff with appropriate skills to care for patients discharged from hospitals or maintained at home and to engage in measures to lift confinement (testing for example).
Appropriate monitoring capacity, including large-scale testing capacity to detect and monitor the spread of the virus combined with contact tracing and possibilities to isolate people in case of reappearance and further spread of infections. Antibody detection capacities, when confirmed specifically for COVID-19, will provide complementary data on the share of the population that has successfully overcome the disease and eventually measure the acquired immunity.
The EU believes three basic principles should guide the EU and its Member States: (1) Action based on science, with public health at its centre; (2) Action coordinated between the Member States: and (3) respect and solidarity between Member States.
For the USA, John Hopkins University American Enterprise Institute has set four similar criteria for coming out of lockdown:
The number of new cases has declined for at least 14 days.
Rapid diagnostic testing capacity is sufficient to test, at minimum, all people with COVID-19 symptoms, as well as close contacts and those in essential roles.
The healthcare system is able to safely care for all patients, including having appropriate personal protective equipment for healthcare workers.
There is sufficient public health capacity to conduct contact tracing for all new cases and their close contacts, as described in the National Plan to Enable Comprehensive COVID-19 Case Finding and Contact Tracing in the US.
The public should be encouraged to maintain the new normal of hand hygiene, coughing etiquette and distancing routines. In addition, the health workforce needs to be offered the opportunity to rest and recuperate. Understandably, COVID-19 has had an effect on routine service delivery by crowding out other health issues that health systems will need to quickly address. For example, children may have missed routine vaccinations, which will need to be quickly rectified to avoid any outbreaks of vaccine-preventable diseases.
The public health community and the people we serve, must all be able to respond to any new outbreaks of COVID-19.
Further, for the State of New York, Governor Andrew Cuomo has introduced seven criteria for easing lockdown in different regions of the State.
An example of the dashboard for achieving these measures is shown here.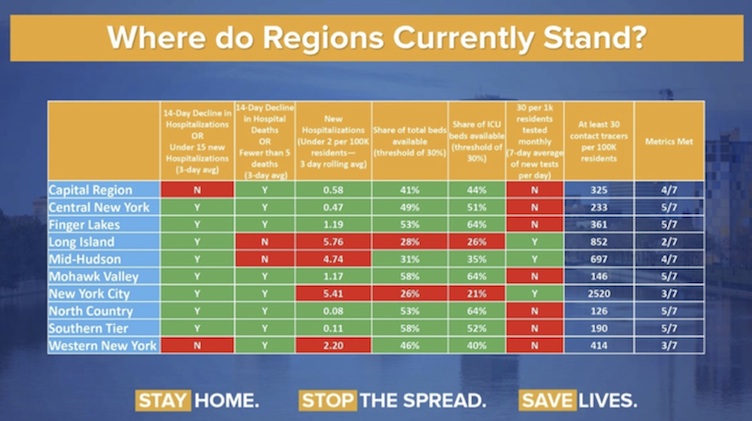 Cuomo A. May 4th 2020. Where do Regions currently stand? https://twitter.com/NYGovCuomo/status/1257342748891459584/photo/1
Key references:
Strengthening and adjusting public health measures throughout the COVID-19 transition phases. Policy considerations for the WHO European Region. 24 April 2020

Joint European Roadmap towards lifting COVID-19 containment measures, presented by the President of the European Commission and the President of the European Council. 15 April 2020
Public Health Principles for a Phased Reopening During COVID-19: Guidance for Governors, Johns Hopkins Bloomberg Schools of Public Health - Center for Health Security. 17 April 2020
National Coronavirus Response - A Road Map to Reopening, American Enterprise Institute. 28 March 2020
ADDRESS
Aspher Secretariat
UM Brussels Campus
Av de l'Armée / Legerlaan 10
BE-1040 Brussels