 Dedicated to strengthening the role of public health
by improving education and training
of public health professionals
for both practice and research
LOGIN | ASPHER COMMUNITY
ASPHER is the key independent European organisation dedicated to strengthening the role of public health by improving education and training of public health professionals for both practice and research.
Member's blog - Other
Planning for an Outbreak of Health
Christmas COVID Fun
The British government has finally taken the message about the unfairness and inequalities in health arising from the COVID-19 pandemic and tried to equalise it around the country. They introduced an impenetrable array of criteria for tiers of pandemic control to come into place just after lockdown 2 on December 2nd. It was difficult to determine where the lockdown measures really were in the six pages of guidance. Bizarrely, given the UK's March experience, 4000 people were allowed to meet in outdoor events in tier 1 and 2000 in tier 2. There were up to 38,000 fans permitted in Championship league football and 32,000 in the Premier League, through to December 16th, mainly in London and the South East. Millwall fans booed as the players took the knee, adding viral aerosols to the cold winter air….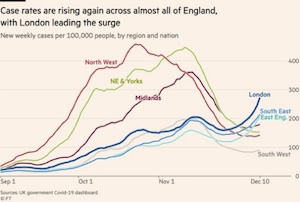 Two thousand rugby fans went to Twickenham for England v France, 2000 turned up at Sandown races. It had the desired effect: with around one person in 175 infected at the end of November in London and the South East, there were more than 400 opportunities for the virus to spread. By December 10th London had the highest rate of COVID infection in England. The strategy to equalise rates around the country seemed to be working. Thirty-eight million people were then under the grip of the highest-level restrictions, which were intended to loosen up for five days of Christmas. More buses were being laid on to spread the virus at Christmas travel, despite being the least ventilated and densely packed form of transport. Christmas shopping defied all the rules of distancing. And desperate Britons are gripped by the dangerous promise of mass testing – get a test and go about your business.
Have Yourself a Muddled Little Christmas
Vacillation, indecision, contradictions and retractions have characterised the UK government's efforts throughout the pandemic. And they have continued, showing no signs of learning from previous rounds of pandemic decision-making.
Despite exhortations from many learned sources and health professions, Prime Minister Johnson was firm: it was too late to change his sloppy and dangerous UK Christmas meeting restrictions. He seemed in two minds, seeking the timing of a stand-up comedian, or the gravitas of an orator, he achieved neither: 'Have Yourself a Merry Little Christmas,' and I am afraid, this Christmas I do mean little. He might have easily taken another of the song's lines "Someday soon we all will be together, if the fates allow. Until then we'll have to muddle through somehow", and I do mean muddle. Within four days, a catastrophic change of position – necessary of course-but predicted and required weeks ago. Much of the South of England and London to close and no five-day Christmas party. Only Christmas day – for you to travel and come back.
Have Yourself a Merry Little Christmas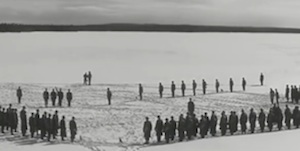 The song 'Have Yourself a Merry Little Christmas was written by Hugh Martin for Julie Garland for the film 'Meet Me in St Louis'. In the depths of World War II, in 1943. America was in a very bad place, morale-wise, in a war with no end in sight and economically bankrupt. The original words seemed very real then and now, 'Have yourself a merry little Christmas. It may be your last. Next year we may all be living in the past'. Brighter words were brought in for Garland, 'Let your hearts be gay, next year all our troubles will be miles away' and 'Let your heart be light, Next year all our troubles will be out of sight'. Sentiments Johnson and, indeed, all of us should long for. Later changes were made for Frank Sinatra 'Hang a shining star upon the highest bough' replaced 'muddling through somehow'. I guess Sinatra wasn't planning on how Carl Foreman would use his version, in the 1963 film, The Victors; a dark metaphor for our bleak midwinter.
Crashing About
The indecision of the UK government has been compounded by reckless, unfeeling and thoughtless demands on public servants. At the eleventh hour they decided to implement a hopeless, unevidenced-based wasteful programme to test school children for COVID in the New Year. Already facing mass chaos in transport, haulage, ports, customs and borders control confronted with a Crash-out Brexit. Emergency pressures on public service are not additive, but synergistic. The public and private sectors are on their knees.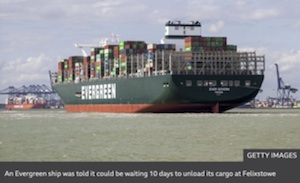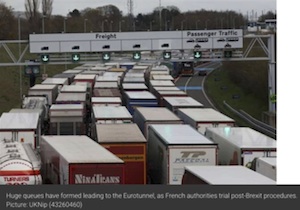 With COVID much worse than ever imagined, and Brexit landing in winter not autumn, it would be wise, and no disgrace, for the government to ask for an extension to the transition. Indeed it would be the only sensible course of action and now the new variant COVID-19 virus is causing havoc, sending the UK into virtual international quarantine. The Health Secretary has conceded that it is now out of control and new Tier 4 measures are necessary to deal with this crisis. All of this is bad enough, but it is taking place against a backdrop of another looming crisis, Brexit. Many, including the UK Faculty of Public Health are urging the government to move for an extension to the transition period and remove one major disaster risk it has in its power to avoid.'
And not much EU Christmas Cheer Either…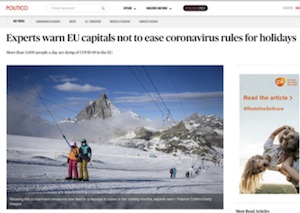 I did not imagine just how bad it was going to get when I spoke of France, Spain and Czechia having been among those badly affected by the second wave this autumn. Many countries still face high rates of infection, elegantly portrayed by the John Burn-Murdoch of the Financial Times.
The Netherlands and Czechia have been decisive in their Christmas restrictions. Angela Merkel felt the pain of her people and pleaded with them to show restraint, before swiftly implementing a new lockdown over Christmas.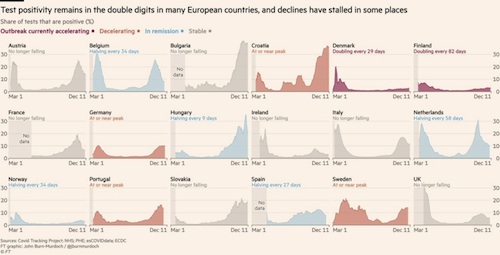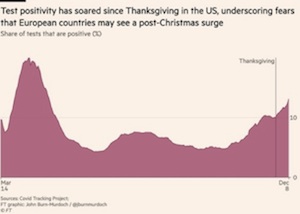 We only have to look at the American Thanksgiving experience to know what will be in store for European countries in January…
Planning for an Outbreak of Health
Next year all our troubles won't be out of sight, but we should create a new vision of what life can be post-pandemic. 'Build back better', and 'Build back fairer' are phrases gathering momentum to describe an agenda for greener, healthier, fairer, just societies, post COVID. But we are not going back. Britain too was in a dark place in the middle of the Second World War. Also at that time, William Beveridge set the conditions for a post-war welfare state. He talked of our collective fight against the giant evils of want, idleness, ignorance, squalor and disease.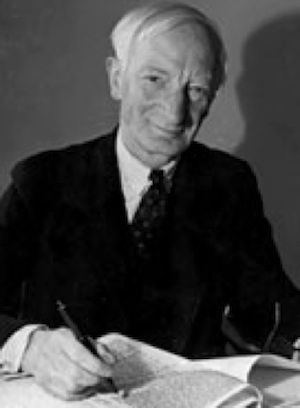 'We should regard want, idleness, ignorance, squalor and disease as enemies of us all. That is the meaning of a social conscience; that we refuse to make our separate peace with evil.' – William Beveridge
There was talk of a 'country fit for heroes' and more crucially 'planning for an outbreak of peace'. For the post COVID world we need to plan for an outbreak of health, for people and the planet. We are all tired of the fight against the giant evils shown so starkly in these pandemic times, but we are also resolved to come out of this with a virus defeated and a better world ahead of us. This is a theme ASPHER will take up in the New Year. Join us as we take forward an agenda for a healthier greener, fairer, just world.
---
More from the ASPHER COVID Task force resources page here. New ASPHER reports this week: Prajapati, et al. Lockdown induced illness: a review. Davidovitch, et al. Herd immunity BMJ opinion.
You can find my seasonal message and report on the ASPHER 2020 year here.
May we all, according to our beliefs, enjoy, celebrate, reflect, share and give in our December festivals (some just passed). Wishing you all a very Happy Christmas, Hanukkah, Bodhi day, Pancha Ganapati, Omisoka, Kwanzaa, Yalda, Zaratosht No Diso, Yule, Winter Solstice, Universal Human Rights Day and more
---
Professor John Middleton
ASPHER President
December 19, 2020
ADDRESS
Aspher Secretariat
UM Brussels Campus
Av de l'Armée / Legerlaan 10
BE-1040 Brussels